RC truck robot conversion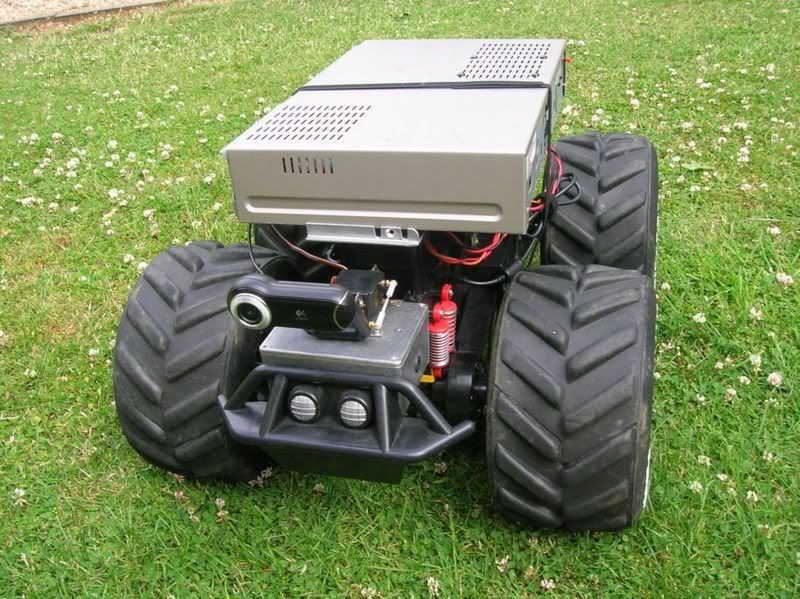 This project covers the conversion of a cheap off-the-shelf RC truck into a powerful robot vision platform capable of ball following, etc.
I always like seeing the projects around the world using expensive robots, running complex vision processing software and dreamt of the day I would have my own to play with.
Win the lottery or build one on the cheap?
Cheap wins every time.
I say cheap, but what I mean is cheap-ish. It depends on how complicated you want it to be and how much you have lying around. Maybe it should be "cheap compared to a Corrobot or Whitebox robot" (although they have much more functionality)
Anyway.
Parts required
Toyabi Skullcrusher RC monster truck
SSC-32 for webcam tilt
Logitech Pro 9000 webcam
Sabertooth 2x10a speed controller
Dell C610 laptop system board + proc + memory + wireless
12v - 19v converter to run laptop from 12v SLA battery
12v battery (I used a 12v SLA 7ah but its a bit too heavy, maybe a LIPO?)
RS232 - TTL converter (homemade or Ebay) for Sabertooth
USB - RS232 converter for SSC-32
Remote control unit and keyfob (homemade or Ebay) - this is a failsafe so I can cut power to the Sabertooth
USB hub
12V fan
Old satellite set-top box - emptied this and used it as a box to house it all in.
Software
Windows Xp
Roborealm
UltraVNC
Sourcing the RC truck
Whilst surfing Ebay one day I came across new RC monster trucks selling very cheaply. The interesting thing about them was that they had tank-style steering instead of the normal Ackerman steering like most RC trucks.
They can be bought in Europe from Seben racing and in the USA from Amazon and are called "Skull Crusher" from Toyabi.
http://www.amazon.com/Remote-Control-Scale-Monster-Yellow/dp/B000ODT7RK/
Here are some videos of the trucks in action
http://www.wilhelmy-it.de/seben/pictures/racing_king/king.html